Quality and Vision
---
In todays highly modern world QUALITY of product plays a kely role at any place. For any product to be successful its quality must be at highest than expected. So do we strive to deliver to our customers. We control each and every process & monitor accordingly to achive goal of QUALITY. QUALITY DEPARTMENT formulates QUALITY ASSURANCE PLAN to place check points at every stage of processing on product. At every stage inspection is done & is documented for future refrence. Materials are located at reknown manufacturers. INSPECTION & IDENTIFICATION of material is done at suppliers to ensure 100% quality material delivery.
Material is stored in proper racs to avoid any mixing of material. Workers are aware of quality & work accordingly.
We hold WPS / PQR / WPQ approved & conducted under DNV (Det Norske Veritas) in SS & MS from 1.6 to 50 mm for plate & 15NB 6G position in pipe. Also we have qualified welders for DUPLEX STEEL from DNV.
All measuring instruments along with Welding machine, Pressure gauges etc. are CALIBRATED from 3rd PARTY LABROTARIES.
Along with Quality we maintain safety of workers & healthy working environment.
---
VISION
TO BE ONE OF THE LEADING WORLDWIDE FABRICATION SERVICE PROVIDER WITH BEST POSSIBLE QUALITY, DELIVERY & COST.
---
QUALITY POLICY
• We at FABRITEK ENGINEERS design, manufacture & supply pressure vessels, process equipments & custom fabrication. 
• We will strive to deliver products in line with global quality standards, requirements & satisfaction of the customers. 
• We will manufacture & deliver good quality products with active participation of all employees and by upgrading their skills & knowledge through adequate training. 
• We will continually review our quality management system.
Testing facilities available from NABL approved Agencies are Radiography Test, Chemcal Testing, Physical/Tensile Test, Ultrasonic Test ( practice E/C), PMI Test, Helium Leak Test, Micro Test, Hydro Test, Pneumatic Test.
---
SAFETY FIRST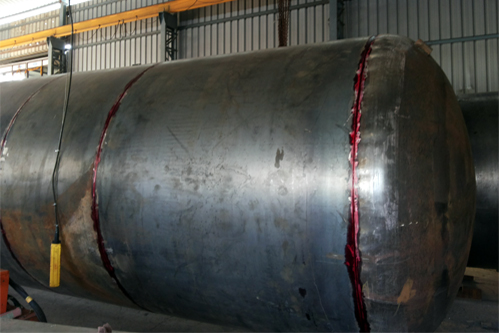 SHELL C-SEAM DYE PENETRANT TEST
DISHEND KNUCKLE DYE PENETRETANT TEST
PROPER MATERIAL STORAGE
SAFETY FIRST
WELDING QUALITY