About Us
---
Company Profile
Established in the year 2010 as proprietorship and now associated as partnership firm. We are involved in manufacturing & supplying of a wide range of FABRICATED PIPING, VESSELS, EXCHANGERS, COLUMNS, FLOW ELEMENTS, BOLT ON JACKETS, STRUCTURE FABTICATION in STAINLESS STEEL, DUPLEX STEEL, CARBON STEEL & ALUMINIUM.
Our products are used in PETROLEUM, CHEMICAL, OIL & GAS, WATER TREATMENT, WASTE-WATER TREATMENT industries.
We have well equipped workshop of 6000 sq feet covered working area & 11,000 sq feet, with all latest facilities. Overhead motor operated crane has 5 ton SWL capacity. We lay great emphasis on the quality of products and thereby test our range on well defined parameters to assure our clients with quality products. To ensure safe delivery, our range is packed in quality packaging or as required by the clients.
Customer base is DOMESTIC as well as INTERNATIONAL, as we have our own license for import & export. Our management team continously tries to improve quality at best cost to serve our international & domestic clients.
We stand & work as a team. Workers are safety conscious which helps to achive quality product safely. Certifications:- ISO 9001:2008
Vendors for  processes like Heat Treatment, Stress reliving, Galvanising, Sandblasting & painting, Rolling, Dishend / Cone forming are approved sources for quality product & fast delivery
---
TEAM WORK
VALUE OUR CUSTOMER
WORK SAFETY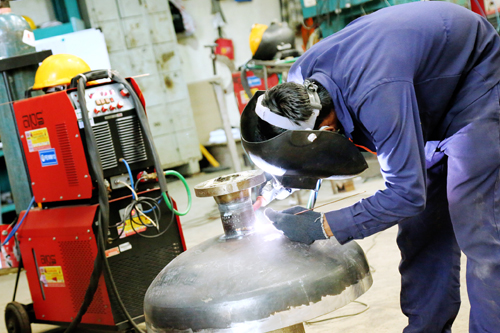 SKILLED WORKERS